Date/Time
Date(s) - 03/09/2017
2:00 pm
Location
THE BEACON THEATRE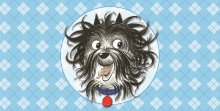 Nonsense Room productions present
Hairy Maclary
'Out of the gate and off for a walk, went Hairy Maclary from Donaldson's Dairy.'
Join Hairy Maclary & Friends for canine capers and animal adventures, as they bound off the page and onto the stage. Featuring many of the characters from the books like Hercules Morse, as big as a Horse – Bottomley Potts, covered in spots – Schnitzel von Krumm, with the very low tum and Scarface Claw – the toughest tomcat in town. With music, singing and several of your favourite Hairy Maclary stories, this show is a must for the whole family.
*****ONE4REVIEW Fans of the storybooks cannot fail to enjoy this performance and every child should see this.
**** THE LIST: – 'This is old-school children's theatre in all the right ways.'
THE SCOTSMAN – when, after 55 minutes, the show came to an end, one little girl behind me just burst into tears, wailing that she didn't want it to end at all.
MUMS.NET:- "…Hairy Maclary was fab, my nearly 3 year old practically levitated in excitement…"
PRIMARY TIMES: – …a vibrant, fun filled show that cleverly brings Lynley Dodd's much-loved children's books to life.'
Promoter : Nonsense Room Productions, Project : Autumn & Winter 2017